By David Crane
defrev at gmail dot com
November 28, 2008
DefenseReview has known about the Caracal high-capacity semi-auto multi-caliber pistol for quite some time, even before it was shown at IDEX 2007. Designed and developed in the United Arab Emirates (UAE), the Caracal F and Caracal C lightweight 9mm semi-auto pistols are striker-fired (with a cocking indicator), carry a maximum of 18+1 rounds (Caracal F) and 15+1 rounds (Caracal C) of 9mm Parabellum (9x19mm NATO) ammo, respectively, and are reported to have only 28 parts, which is even less parts than the Glock series pistols. 9mm is reportedly the first available caliber for the Caracal pistols, although the pistols will also be offered in other calibers, including .40 S&W.
The Caracal series pistols also have…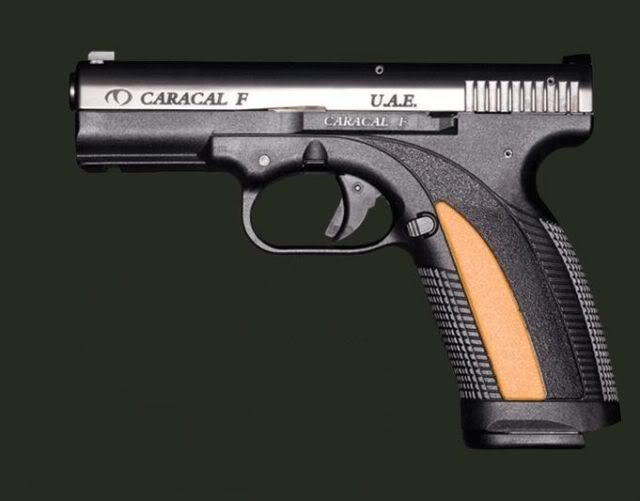 a low bore axis, a la the Glock series pistols, HK P7 series pistols and Steyr M (and Steyr S) series pistols. The Caracal's low bore axis should reduce the pistols' muzzle flip when firing, despite their light weight. The Caracal F weighs only 26.46 ounces (750 grams), while the Caracal C weighs only 24.69 ounces (700 grams). The Caracal's grip looks ergonomic and comfortable, although Defense Review hasn't handled one, yet. We're also not crazy about the orange side strip on the grip. We would change that.
So, where are they? Why aren't the Caracal F and Caracal C pistols available yet here in the U.S.? Are they being kept out due to ITAR restrictions? Are they not quite ready for primetime? We really don't know. However, we're going to try to find out.
In the meantime, click here to download the Caracal pistol brochure/fact sheet (PDF format).
And, here are the listed techical specs on the Caracal pistols from the company website:
Caracal F Semi-Auto Pistol Technical Specs:
Slide Length: 178 mm
Barrel Length: 104 mm
Height: 135 mm
Width: 28 mm
Weight: 750 grams (26.46 oz)
Caliber: 9×19 NATO /9x21mm/.357 SIG/.40 S&W
Magazine capacity: 18/18/16/16
Grip Frame: Synthetic
Trigger System: Double Action
Trigger weight(Constant): 2.2 kg
trigger Travel (Constant): 8 millimeters (mm)
Safety Devices :Trigger, Drop and Firing Pin: 3
Cocking Indicator: 1
Magazine Catch: Ambidextrous
Caracal C Semi-Auto Pistol Technical Specs:
Slide Length: 167 mm
Barrel Length: 90 mm
Height: 122 mm
Width: 28 mm
Weight: 700 grams (24.69 oz)
Caliber: 9×19 NATO /9x21mm/.357 SIG/.40 S&W
Magazine capacity: 15/15/13/13
Grip Frame: Synthetic
Trigger System: Double Action
Trigger weight(Constant): 2.2 kg
trigger Travel (Constant): 8 millimeters (mm)
Safety Devices :Trigger, Drop and Firing Pin: 3
Cocking Indicator: 1
Magazine Catch: Ambidextrous

Company Contact Info:
Caracal International LLC
Villa #9 Al Muroor Rd.
P.O.Box 94499
Abu Dhabi, UAE
Tel.: +971-2-448-8091
Fax: +971-2-448-8092
Email: info@caracal.ae
Website: http://www.caracal.ae

Related Articles, Videos and Links:
IDEX 2007 Caracal 9mm Pistol Series Demonstration
Search terms for the article: